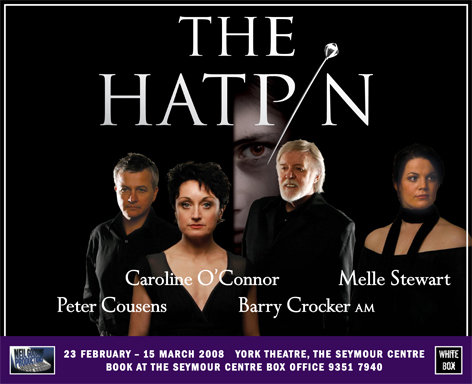 Life has been hectic lately with grant applications, admin, classes, professional development, meetings, more admin… the usual but I managed to escape work for a while to enjoy the most amazing musical ever: The Hatpin.
It's a very dark, Gothic, heart wrenching dramatic thriller that was inspired by the true story of a young, homeless, single mother Amber Murray, and is one of the best pieces of storytelling I have ever seen. The fact that the historical events happened just around the corner from where I am living right now sends chills down my spine. It is macabre, grisly, spooky, and terribly terribly sad.
According to the website info, it is:
a tale of great friendship between two women, borne out of tragedy. It … deals with the notions of motherhood, and companionship thriving under extraordinary pressure and self-liberty. Essentially, it is a story about the resilient nature of the human spirit in times of great loss.
The story of Amber Murray and that of John and Sarah Makin in 1892, is considered influential in bringing about awareness in Australian society of the need for welfare for single-mothers and the demand for an Australian Child Protection Act. It marked a pivotal turning point in our history and helped define our society and social structures, the consequences of which are still seen today.
Caroline O'Connor is extraordinary and really gave the show integrity on so many levels - providing some of the most touching and yet comedic moments in the narrative. The music was wonderful - here's a medley that was made and published on youtube:
There's also a youtube video of an interview with the writer and composer which provides additional background info:
I also found an excellent review from the Sydney Morning Herald and here's a snippet from that:
Hardwick's control of pace and the cast's commitment to each moment sustain intense engagement. Again and again production choices elevate the material. Costumes are all shades of grey, nuances of characterisation and theme conveyed with bold efficacy - villainy and heroism on a symbolic continuum of human fallibility. Lighting and visual effects are superb, cold streetscapes a gravestone for compassion, choral transitions lit in ghoulish, expressionistic patterns.

Stirring performances abound. Melle Stewart is heartbreakingly real as Amber Murray, the teenage mother who gives her son away. Stewart's emotional bravery is complemented by Gemma-Ashley Kaplan, who brings just the right amount of peculiar to Clara Makin. Kaplan's performance of the denouement title song (and Clara's redemption) is breathtaking.

Caroline O'Connor lends star power to the earthy Harriet Piper, Amber's friend. With irreverent banter almost improvisational in its freshness, O'Connor lifts this mask of humour to reveal emotional depth with profound effect. Michelle Doake creates extraordinary engagement with Agatha Makin, wresting this villainess back from melodramatic overstatement while pushing to the hilt the psychotic hysteria just beneath the facade of respectability. The male characters are paler by comparison, their snivelling and posturing well executed but less relevant to the drama.

The Hatpin is far from perfect but this fearless production is a must see. Its artistic ambition, committed execution and capacity to engage an audience suggest a landmark moment in Australian musical theatre.
I can't rave enough about this - if you're in Sydney, go and see it!!! The storytelling is just spectacular.
And, if you are a Drama / English / History / Theatre / Music teacher of young people over 15, take your classes along!!! There's a teacher's resource package here that includes some of the original source material and lesson ideas which are really well developed.